Tips to Choose Best Color for Your Skin Tone
Emmys

– How to Pick Your Fabulous Shade of Red

Reds were the hot colour on the Emmys this year with coral (a shade of red) leading the pack.

Coral is an on trend colour that has been popular these past few seasons. Nowhere was it more evident than the Emmy's where many stars embraced it and wore it well. But coral is not for everyone. Here are some tips and advice to make it work.
Not your best friend?
Depending on your complexion it may not be your best friend. Coral is part of the red family and everyone can wear a shade of red depending on your skin tone.
Peaches and cream complexions
Coral is a 'warm' red and works best for those that have a peaches and cream complexion and golden shades in their hair. Homeland star Claire Danes and Heidi Klum star of Project Runway looked spectacular in it.
The rest of us
The orangey coral colour, brightens, frames and adds a glow to their peaches and cream complexions. Unfortunately it doesn't do the same for the rest of us, myself included. With my olive complexion and dark hair (thanks to my Italian heritage), a better red choice for me would be what Julia Louis Dreyfus wore to the Emmys in 2012.
Julia Louis Dreyfus looked stunning in a deep burgundy colour, a shade that happens to be popular for fall 2014. She and I have a lot in common, in our complexion that is, not so much our personality, although I love her sense of humor.
Sickly?
We share the same 'cool undertone' complexion as many Asians and women of colour. If we wear colours like coral that are warm (yellow undertone) it can makes us appear sallow or sickly. (Good, only if you want to get a sick day off work.)
Cool reds, those that have a blue undertone such as raspberry, wine, and burgundy flatter us as they tend to counterbalance the yellow cast in our complexion.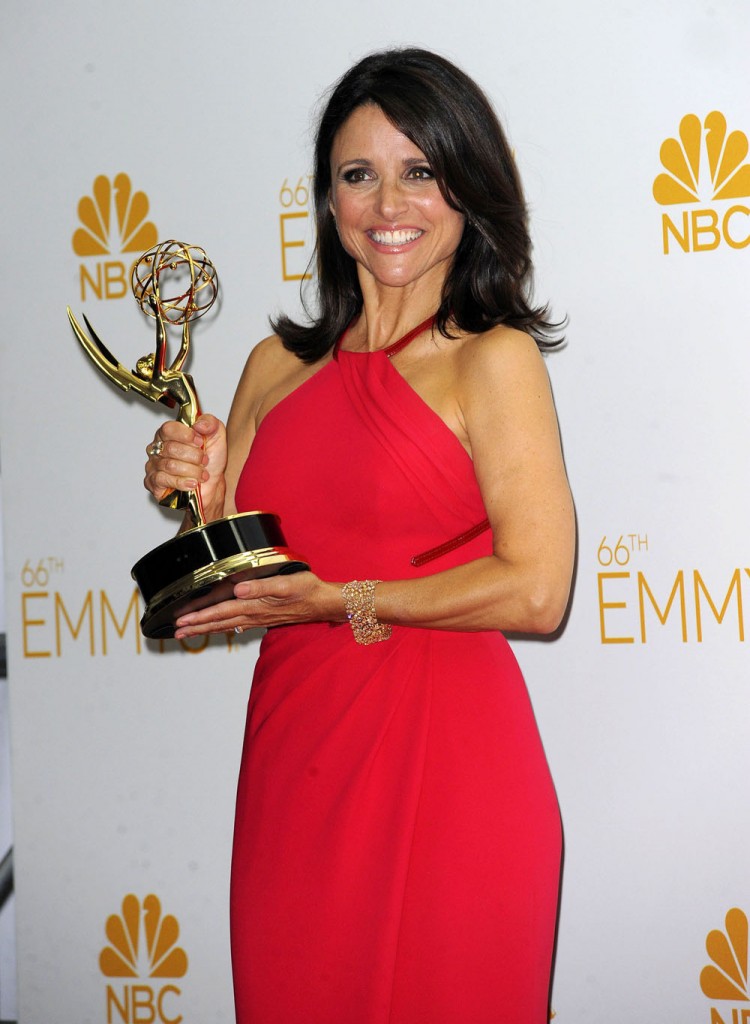 While there are exceptions, most people (men included) of southern European, Asian, African and South American countries can wear cool reds well. The corals tend to suit northern Europeans and Nordic people best.
But I love coral
If you have a cool complexion and still love coral, here's a tip. You can cheat a little like Julia Louis Dreyfus did this year (on right) by choosing a shade that leans more towards pink than orange.
Why not look your best?
Dress for success isn't just choosing appropriate styles and fit, it's also about colour.
Can you wear any shade of color you want? Yes.
Should you? No.
To dress for success and look your best you need to choose your right shade of each colour so that you look as vibrant and fabulous as you are!
Posted by Joanne Blake – Canadian Corporate Image Consultant, Coach and proud Italian
PS – You are often subconsciously drawn to the shades that work best for your skin tone, but if you'd like some help or advice, consider some executive coaching.